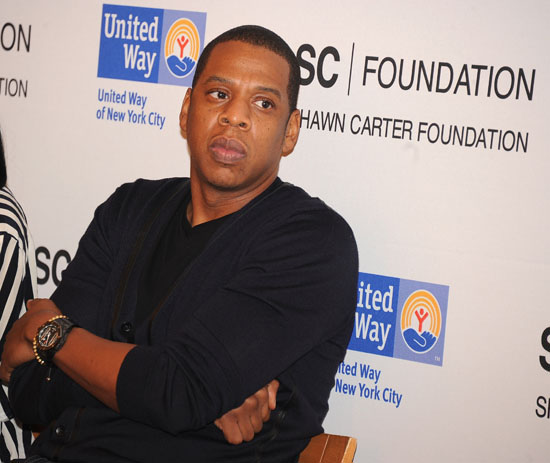 (Photocredit: Gossiponthis.com)
It's been a busy year for Jay-Z: He released a joint album with Kanye West,
Watch The Throne
, that became the first post-Napster highly anticipated album to resist a leak(it was released digitally before physical copies). He released the very same album(complete with Ricardo Tisci cover art and $300 Givenchy T- shirts) in the midst of a worldwide recession, managing to make even the 1% feel poor. He sold(and pulled) ill conceived 99% solidarity attempts in the form of 'Occupy All Streets' t shirts. He announced he and wife Beyonce are expecting a child. He had classes taught about him at Georgetown.
He re-released his book 'Decoded', which even won him praises from notoriously icy NYT book critic Michiko Kakutani and once earned him a sit-down with Cornel West and others at the NYPL. He was likened, by Mr. West(Cornel, that is), to Aristotle and Shakespeare.
Yet when asked at a press conference just days ago at about his feelings on becoming the first solo hip-hop act to play Carnegie Hall(his two performances scheduled for February 2012), Jay-Z, normally confident cool and collected, demurred:
"I feel like they bent the rules so it could make sense for me right now, but I'll take it!"
Proceeds from the concert will go toward the Shawn Carter Foundation and United Way of New York City. These proceeds are expected to benefit low-income students throughout New York City's public school system. Private sale tickets for the concert will range from $500 to $2500 before going on sale on January 30th to the public for, as of now, undetermined amounts. The goal, according to the foundation, is to raise as much money as possible.
The benefits for the concert go beyond charitable ones. The meeting of two world famous New York institutions arrives on a moment of intense transition for both. Jay-Z is not the first hip hop artist period to perform at Carnegie Hall, but he is the most visible and challenging to Carnegie Hall's classically leaned status . Although hip hop has been accepted into Carnegie Hall before, the artists appealed to the classic tenants of hip hop: Soul loops, Boom Bap, and 'conscious' rhymes.
Previous artists to perform at the space include MC Lyte, The Roots, Mos Def, and Lauryn Hill. MC Lyte is a product of Hip Hop's Golden Age, while The Roots, Mos Def, and Lauryn Hill are artists from the same SoulQuarians collective. The rules have indeed, as Jay-Z remarked, been bent: Jay-Z will be the first hip hop artist in Carnegie Hall who is not an openly considered 'Conscious Lyricist' nor an openly considered devotee of jazz and soul inspired production.
For Jay-Z, it is a chance to legitimize hip-hop on a scale previously unknown: Speaking at the press conference, Jay-Z said
"Any time that I get a chance to expand and broaden the reach of hip-hop is a great thing for me on a personal level.
But music is music. I believe all sort of music plays in all sort of venues, I've always believed that — from Yankee Stadium to Royal Albert Hall to Carnegie Hall. I think if music is great, it works in great venues." He added: "And I have great music!"
Recent records of Jay-Z have shown him a more personally insular lyricist, and a more sonically adventuorous rapper. His last two releases, 2009's Blueprint 3 and 2011's Watch The Throne, are littered with samples rarely seen in a hip hop release: Dubstep, Oboe interludes, samples from Germn synthpop groups, prog rock peppered throughout, James Brown behind Eastern Flutes, and auto-tuning, of all voices, Nina Simone. As for lyrics, after 2006's coolly received record Kingdom Come, Jay-Z has subscribed to the 'write what you know' adage, writing verses celebrating his exceptional wealth, alternatively lamenting and attacking lost friendships, and extending his brand partnernships.
It is unknown how Jay-Z's lyrical and sonic progression will play in the seats of Carnegir Hall, but Carnegie representatives are hoping splendidly. In 2007-2008,
Carnegie Hall had an operating shortfall of $40.2 million. A 2009 breakdown reveals
$48, 483, 776 in Revenue, and & $73, 241, 325 in Total Functional Expenses. It is hoped that the star power of Jay-Z will attract new visitors, and that news of his appearance will encourage listeners to check out Carnegie's storied programs. Classical music, the form of music most associated with Carnegie Hall, has seen a severe dip in record sales. In 2010, classical music record sales dropped 25%. The only genre that did not experience any drop-off was the genre that Jay-Z calls home-Hip Hop.
In February, two New York institutions will collide, hoping, in their own way, for a little help from an unexpected friend.